3 ways mindful movement helps you manage stress and anxiety
From the body to the mind: 3 ways mindful movement helps you manage stress and anxiety
Movement has always been part of my life. From Ballet to Somatic Dance, Yoga to Pilates, coming home to my body has been my key strategy to cope with anxiety and perfectionism, and recover a sense of safety when things get too overwhelming to handle.
Inspired by the incredible benefits that these practices have always had on my mental health, I have spent the last decade delving deeper in the study of our autonomic nervous system and how we can literally change the state of our mind by changing the state of our body.
I have specialised in Yoga Therapy for Anxiety, Advanced Yoga Psychology and Polyvagal Theory applied to Yoga Therapeutics, and most of my work today revolves around the application of movement and breath work to support stress management and develop a more positive body image.
These are some of the reasons why mindful movement practices like Yoga and Pilates are key to improve our relationship with anxiety, and are more and more recommended by doctors and therapists as part of holistic programmes to support our psychological resilience.
1) Mindful movement invites us to stay in the present moment, concentrate and build up tolerance to discomfort
When we pay undivided attention to the execution of a movement or the physical sensations experienced in a certain pose, we train our mind to orient and maintain a clear focus, so there is little space left for rumination and obsessing about the future or the past.
We also learn to notice that discomfort, like everything, is transitory, and that things that may feel out of reach at first, can actually be possible, something we can then apply to our everyday life.
2) It offer us tools to create physiological (and therefore psychological) changes in our body in the short and long term.
Both Joseph Pilates and the Yogis believed that the state of our body has a huge influence on the state of our mind: for instance, by altering the tone of our muscles, the rhythm of our heart beat and the quality of our breath, we can shape the way we feel mentally and emotionally.
This is coherent with most recent views in Neuroscience: by altering our chemical and physical landscape, movement allows us to change the inputs to the "global emotional moment", the way we feel inside (1).
How does this work in practice?
Many mental health issues are related to imbalances in the autonomic nervous system. For instance, the levels of certain chemicals are altered, specific brain regions connected to fear (like the amygdala gland) show an increased activity, while those that support regulation and threats decoding (namely the prefrontal cortex) are actually underworking (2).
Instead, when self-regulation works properly, we can easily return to our homeostatic balance, and feel grounded and centred even during and after difficult experiences.
Exercise in general tends to reduce the levels of stress hormones (adrenaline, cortisol..), and to stimulate the production of feel-good hormones (dopamine, endorphins).
Yoga specifically seems to offer further benefits, including the increase of levels of GABA, a key neurotransmitter responsible for mitigating the activity of our fear-based pathways, which is often low in mood and anxiety disorders, and a reduction in the size of the amygdala gland.
Breath-regulation, a key principle both in Yoga and Pilates, plays also an important role in shifting towards a calmer state.
When we feel under pressure, our breath becomes fast, shallow and chest-focused, while when we feel relaxed we usually tend to breathe slowly and fully involving our diaphragm.
By consciously elongating and deepening our breath through our practice, we have the opportunity to induce a relaxation response soothing first our body, then our mind.
The stretching component that both Yoga and Pilates offer can also significantly help in inducing a relaxation response and shifting us into the ventral vagal state (the safe state of our parasympathetic system, commonly called "rest and digest"): releasing muscular tension from our body signals our brain that we can trust our environment and settle into rest.
Also, studies show that both Pilates and Yoga can increase our HRV (heart rate variability), which is an indirect measure of how well our autonomic nervous system copes with stress and recovers from effort (3,4).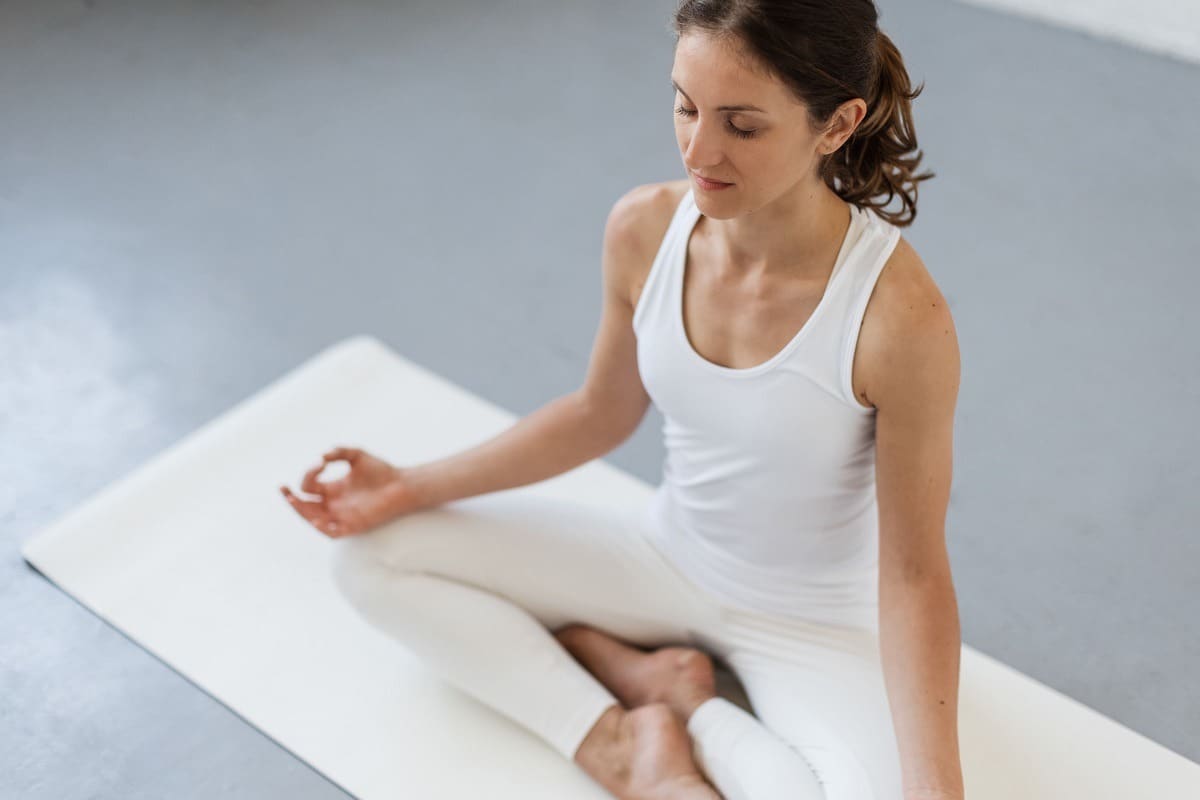 3) It improves our self confidence and feeling of what we are capable of
Anxiety is often accompanied by feelings of unworthiness and not being able to meet our life's demands.
By developing strength and mastering new skills in Pilates and Yoga, we can improve our sense of agency and self-identity. We feel it in our bones and muscles: we can do hard things!
Indeed, research shows that people who practice more physical activity tend to score higher on a scale of global self-efficacy, which measures the sense of how much control they have over their lives.
Other studies focusing on anxiety also noticed that weight bearing exercises can help people boost their self-worth, while reducing symptoms of stress and improving sleep (5).
Not only Yoga and Pilates can have a significant positive impact on our physical health, they can also make our emotional challenges feel more manageable. Stepping on the mat can therefore become an act of self-care at 360 degrees, a way to remind ourselves, we are worthy of a fulfilling and harmonious life.
Want to know more?
Start your FREE trial of Transformative Movement Method , embodying Yoga for Mental Health, Pilates and Dance principles, or get in touch with Vanessa for a free consultation for a 1:1 Private Yoga therapy for Anxiety programme.
References
(1) Williams, C. (2021). Move. The new science of body over mind. Profile Books.
(2) Mason, H. & Birch, K. (eds) (2018). Yoga for Mental Health. Handspring Publishing Limited.
(3) Cavina, A. et al (2021). Effects of 12-week Pilates training program on cardiac autonomic modulation: a randomized controlled clinical trial. In Journal of comparative effectiveness research, Vol 10, n. 18.
(4) Tyagi, A. & Cohen, M. (2016). Yoga and heart rate variability: A comprehensive review of the literature. International Journal of Yoga Jul-Dec 9(2), 97–113.
(5) O'Connor, P. J. et al. (2010) Mental health benefits of strength training in adults. In American Journal of Lifestyle Medicine, vol. 4(5), 377-96.
Vanessa Michielon is a Yoga and Dance Lecturer, and founder of the Transformative Movement method, empowering people of all walks of life to embrace Yoga, Pilates and Dance in order to improve physical health and achieve a balanced state of mind. She is part of MIAL (Medici Italiani a Londra), offering holistic and individual care to patients through Yoga and Pilates. She is trained in Advanced Yoga Psychology, Yoga Therapy for Anxiety and Applied Polyvagal Theory in Yoga Therapeutics; Community Dance, Pilates and Barre. Vanessa believes that embodied movement can truly transform our life and wishes to help others find joy and purpose in their practice. You can find her on Instagram at www.instagram.com/vanessamichielon and join her practices online or in pop up events in London at www.vanessamichielon.com.